include_once("header.php3"); ?>
Welcome to StudentsReview!
Uncensored college reviews -- Informative, Awesome & Truthful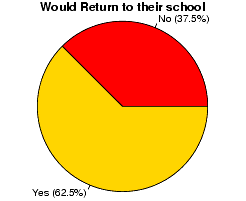 37% of students would not choose their school again.

A Sample College Review
University of California - Riverside
"The school itself, the programs, academic work, etc. is very good. UCR is usually only mentioned in jokes but the courses are extremely challenging and I can't imagine them not being on par with the other UCs. However, Riverside the city is horrible. Most students leave for Los Angeles or Orange County when given the opportunity (about 45 minutes away.) It's hot and smoggy duri... " more...
Twenty Most Reviewed Universities

Pleased
University Name
City, State
Total
Pensacola Christian College
Pensacola, FL
2649
Bob Jones University
Greenville, SC
831
New York University
New York, NY
565
University of Michigan - Ann Arbor
Ann Arbor, MI
543
Rochester Institute of Technology
Rochester, NY
537
Boston University
Boston, MA
524
University of Houston
Houston, TX
496
George Washington University
Washington, DC
440
Georgia Institute of Technology
Atlanta, GA
440
Pennsylvania State University
University Park, PA
438
University of Illinois Urbana - Champaign
Champaign, IL
436
University of Southern California
Los Angeles, CA
430
Savannah College of Art and Design
Savannah, GA
423
Brown University
Providence, RI
397
Michigan State University
East Lansing, MI
395
Iona College
New Rochelle, NY
395
Liberty University
Lynchburg, VA
394
Texas A & M University - College Station
College Station, TX
390
Cornell University
Ithaca, NY
380
Kettering University
Flint, MI
376
University of California - Berkeley
Berkeley, CA
374
State University of New York Binghamton
Vestal, NY
366
Fordham University
Bronx, NY
365
James Madison University
Harrisonburg, VA
358
Drexel University
Philadelphia, PA
343
Totals

(112568 : 26055 : 98081)

236704 Total Reviews; 3359 Total Universities Reviewed